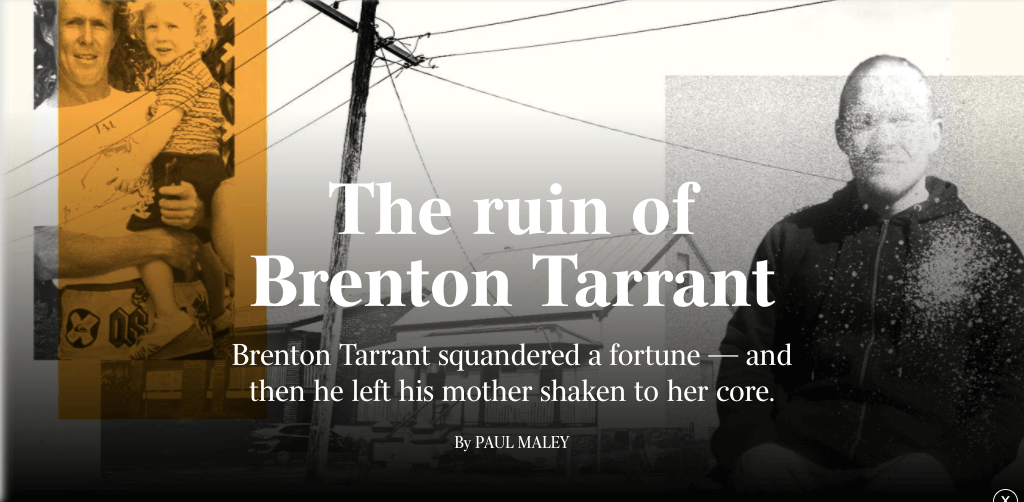 One of Brenton Tarrant's last acts before walking into two New Zealand mosques and gunning down 51 people in the country's worst terrorist attack was to send a farewell note to his mother.
Fifty-seven-year-old Sharon Tarrant was in a classroom in Mac­lean High School on NSW's mid-north coast when the message appeared on her screen. For months she had been worried about her son. A visit to Tarrant's Dunedin home on New Zealand's South Island three months earlier had left her shaken to the core. She found Tarrant living in hermit-like isolation. His rented one-bedroom unit contained only a small table and two chairs, a bed he had propped upright against the bedroom wall and a handful of clothes, still in their travel bag.
"His accommodation was so stark it may as well have been in a cell," said a source who saw the apartment but asked not to be named. "He hadn't even put sheets on his bed."
The money Tarrant had inherited from his father a decade earlier was gone, squandered on endless travel and donations to obscure far-right groups. At 28, Tarrant had no family, no prospects and few, if any, friends. His lease was up in a few months and, after that, well, who knew.
Tarrant had travelled everywhere but gone nowhere.
Now, three months after Sharon had turned up at his door and begged him to come home, Tarrant was saying goodbye. No public version of the message Tarrant sent his mum exists and Sharon Tarrant refused to speak publicly for this story.
However, two sources familiar with the message described its contents to The Weekend Australian. In it, Tarrant warned his mother that she was about to see and read "the most terrible things" about him. He told her he had decided on his purpose and that it was no reflection on her. He told her to get on with her life and that he loved her. The note was short, just a few lines.
The Weekend Australian understands Sharon Tarrant waited for the class to finish, then called her daughter. Lauren Tarrant was exceptionally close to her brother. One source familiar with the relationship described Lauren as like a "surrogate mother" to Brenton. For a while the two lived together in their father's modest Grafton home after Rod Tarrant died of mesothelioma.
Brenton had travelled to Coffs Harbour in June for his sister's 30th birthday celebration. Like her mother, Lauren was said to be deeply worried about Brenton. It is understood Lauren also received a message from Tarrant. When The Weekend Australian approached her she declined to comment.
By the time mother and daughter spoke, news of a mass shooting in Christchurch was all over the airwaves. Both women worried the shooter was Brenton. Sharon Tarrant drove to nearby Maclean police station, only to find it shut. She waited while officers made the 20-minute drive from nearby Yamba. By then Brenton Tarrant had become the No 1 priority for NSW Police. Sharon Tarrant was asked to go to Coffs Harbour, where she was met by officers from the NSW Joint Counter Terrorism Team.
By this stage her son was in custody.
On March 15 at 1.40pm New Zealand time Brenton Tarrant stormed Christchurch's Al Noor Mosque, killing more than 40 people as they said their Friday prayers. He then drove 7km to the Linwood Islamic Centre where he killed more. By the time police arrested him 19 minutes after the attacks began, 51 people lay dead or dying and a further 49 had been injured. Using a GoPro attached to his helmet, Tarrant had live-streamed the whole thing to his Facebook page, giving his act of terrorism a slick, gamer's aesthetic. He has pleaded not guilty to the attacks and will be tried next year.
Tarrant had long been obsessed with right-wing extremism. The Weekend Australian has been told he jousted often with his mother, who pushed back against her son's increasingly disturbed views of the world, sending him books and literature she hoped might set him right. At one point she even ventured on to 8chan, the right-wing message board she knew her son visited. But it was no good. Any argument levelled at Brenton drew three in reply. He'd dive into his phone, pull out some half-baked factoid and bulldoze straight over the top of her.
Tarrant was a traveller, a gym junkie, a gun nut and an adventurer who would hike for hours through the pristine New Zealand wilderness. He scuba-dived and took photographs.
But his real life was lived online. There, in the shimmering world of online gaming and on far-right websites such as 8chan, he consorted with the Islamophobes, racists and misogynists who would shape his world view and cheer him on as he walked into the Al Noor Mosque, an arsenal of weapons at the ready.
It took a while, but eventually a hatred bred in the darkest corners of the internet burst into the real world.
PART II: The fight against darkness
PART III: Playing a deadly game
Brenton Tarrant was born in Grafton in 1990, the son of Rod Tarrant, a garbage collector, and Sharon Tarrant, nee Fitzgerald. Grafton is a mid-sized town on the mid-north coast of NSW, full of wide streets, towering jacarandas and weatherboard houses built high to avoid the flood waters of the Clarence River.
The town's mayor, Jim Simmons, says young people often leave Grafton to get an education, learn a trade or get ahead in life. It was the same in his day and by the time Brenton Tarrant's time came around not much had changed. "As I look at it now, the industries to be in are youth, like childcare, etc, and aged care," Simmons tells The Weekend Australian.
Simmons is a soft-spoken man who has lived in Grafton his whole life. He agrees to be interviewed on the footpath outside the council chambers. Sitting in the winter sunshine and brandishing a mug of instant coffee he breaks off every few minutes to greet passers-by. Like every country mayor Simmons seems to be on a first-name basis with half the town. The townsfolk have rallied around the Tarrants, who are well known and liked in the Clarence Valley. "They're not to blame in any way," Simmons says. "Nothing to do with it."
In the aftermath of Christchurch there was incredulity that such a heinous act could have its roots in a place such as Grafton, as if monsters must come from ghettos or war zones or dank basements. If not Grafton, then where? The Tarrants are an old family in the Clarence Valley. Rod Tarrant's forebears settled in the area and decades later the phone book abounds with Tarrants, although not all are known to each other.
Visitors who drive in from the airport will find the Tarrant name attached to a small bridge a few hundred metres from where Rod Tarrant lived with his two children after he divorced Sharon. After the shooting there was a brief debate about whether to pull it down but in the end the town burghers decided to leave it as it is. The Tarrants are well regarded in Grafton. "They're a big farming family," says Simmons. "Their history in the Clarence Valley goes back a long way, probably to the early days."
Rod and Sharon Tarrant married in 1984. Brenton Tarrant was 10 or 11 when they split and it is understood he took it hard. One of the first things Rod Tarrant did after the divorce was take his two kids on a holiday to New Zealand. It was the beginning of a long and complex relationship with the country Brenton Tarrant would ultimately adopt as his own, then turn on with unblinking savagery.
Rod Tarrant was a distance runner, mountain bike rider and triathlete, who on one account got into exercise after a drink-driving conviction forced his wife to drive the garbage truck while he ran alongside it. His story has been well told in newspaper articles and magazines but bears repeating if only because it was the death of his father more than any other single event that unmoored Brenton Tarrant and set him on his path. Father and son were said to be very close. Like his son, Rod Tarrant seemed to relish being alone in the natural world. In words that might one day have described Brenton, Lauren said in a 2010 obituary of her father: "He loved experiencing the beauty of the place from the perspective of a lone wanderer."
Unlike his dad, the young Brenton Tarrant was no athlete. An early crack at rugby league left him with a broken leg and according to some he was teased mercilessly. Other accounts, though, cast Tarrant as the bully or at the very least a harmless pest. "He was sort of like your class clown," 28-year-old Kara Hickson told The New York Times. "Always trying to make people laugh and always being silly."
Tarrant was more interested in online gaming, an interest he would never outgrow. He would clock thousands of hours playing team-based first-person shooters.
Researchers debate the link between the increasingly lifelike depictions of violence in video games and the real thing, but in Tarrant's case it's clear that at the very least they provided an aesthetic backdrop for his terrorism.
They also put him in contact with a community of people sympathetic to his world view. Sharon Tarrant would later lament the way gaming culture stunted her son. "You are not learning about the real world where things don't go the way you want it," Sharon Tarrant told The New Zealand Herald last month.
"You have to work hard and communicate with each other, but young people have lost that ability and go into spaces that are psychologically harmful."
Tarrant left school in 2008. By his own account he wasn't much of a student. He worked briefly as a personal trainer for the Big River Fitness Centre, but the job was a time-filler rather than a passion. The money from Rod Tarrant's estate didn't come through all at once and The Weekend Australian has been told there were some initial restrictions. But gym work suited Brenton, who by that stage had become obsessive about his own fitness, training at the gym six or seven days a week, sometimes twice a day.
"He was very rigid," said a former colleague of Tarrant who asked not to be named. "He would only eat anything that comes from an animal or the ground. Nothing else. Nothing out of a packet. He took that philosophy and really immersed himself and his training in it." For a while Tarrant even stopped washing his clothes, such was his aversion to anything non-organic. That phase prompted a few discreet complaints from other gym members.
"A few commented that he was a bit whiffy on the nose," said his former colleague.
Rod Tarrant died in 2010. The job that turned him into an amateur athlete also killed him. Years of emptying asbestos-laden skips left him with incurable mesothelioma. He lasted longer than most, thanks, it seems, to his physical fitness, but it was a gruesome, lingering death. Before he went, Rod Tarrant won a payout from James Hardie. What was left was passed to Brenton and Lauren, who The Weekend Australian has been told inherited about $300,000 each.
The money should have been a godsend for Tarrant: $300,000 can go a long way, particularly in a place such as Grafton. But instead of using the money to set himself up, Tarrant used it to escape. He travelled incessantly. His stint as a personal trainer at the Big River gym seems to have been his only foray into the workforce. From then on he was constantly on the move. By one estimate he visited 78 countries in eight years.
Travel is supposed to open a person's mind, but in Tarrant's case it narrowed it. Everything he saw seemed to confirm the truth of what he had encountered in right-wing memes and on message boards such as 8chan. The sight of hijab-garbed women in shopping centres in France could only mean the white race was being bred out of existence. The election of French President Emmanuel Macron, "a globalist, capitalist, egalitarian" investment banker devoid of any abiding beliefs, proved how insipid Western civilisation had become. The murder of Swedish schoolgirl Ebba Akerlund in a 2017 Islamic State terrorist attack showed incontrovertibly that the West was in a war with Islam.
Tarrant's travels began in New Zealand, where he met up with friends he had made online. He then bought a van and drove it through northern Australia. He was said to be particularly affected by the grinding poverty and social dysfunction he saw in Aboriginal communities.
Tarrant's mother was by this stage in a relationship with a man who, by coincidence, was indigenous. The relationship was violent and it angered Tarrant, although not in the way you might think. There is no evidence it fuelled his racism. "He was more a bit angry that his mum was allowing it to happen, as in, stand up for yourself," said Tarrant's former colleague.
After northern Australia there was Southeast Asia, China, India and South America. He often went scuba diving on his travels through Southeast Asia. A brief trip to Rwanda saw him robbed at knifepoint. The incident rattled him and he left the country within a few days. Later he would travel further afield — Japan, Russia and even North Korea.
In 2016-17 Tarrant toured the Balkans and Bulgaria in what amounted to an ideological pilgrimage of ancient battlegrounds between East and West. He visited sites associated with the Russo-Turkish War. Tarrant's hatred of Muslims is plain, but he had a special loathing for the Turks. The Ottoman Empire's incursions into Europe had been one of the main flashpoints in the conflict between Islam and the Christian West, a conflict that in Tarrant's mind raged still.
"Let's talk about Russia," Tarrant wrote in a letter sent from Auckland Prison last month and that subsequently found its way to right-wing message board 4chan. "It is one of my favourite countries. I visited Russia for 1 month in September 2015 … The Russian people I met were great and once they found out I was a tourist from Australia they became very welcoming."
Tarrant described St Petersburg as "the most beautiful city in Europe" and laughed at the babushkas who berated him for taking unauthorised photographs at the museum. "I still feel shame to this very day haha."
Like many on the extreme right, Tarrant seems to have been impressed by Russia's ultra-conservative Cossacks. He was equally impressed with the Chetniks, Serbia's militant ultra-nationalists, who are lionised by the far right for their militant Islamophobia. "I wish I could visit Russia again someday," Tarrant wrote from his prison cell. "But oh well, life isn't about travelling."
To travel is to skim across the surface of a place but to live a person must put down roots and form relationships. Tarrant did the former but never the latter. It was the ruin of him. "He couldn't have a real life," a source close to Tarrant said. "He couldn't have connections with people in a real day. It gave him the freedom to go online for too long."
The parallels between Tarrant's online travels and his journey through the real world are disturbing and unique. He was indistinguishable from other right-wing terrorists except for the fact his financial windfall allowed him free rein to roam the world. Most never stray farther than their home town. They don't need to. The human contact we all crave is just a few mouse clicks away.
Five and a half months after he attacked the Al Noor Mosque and the Linwood Islamic Centre, Tarrant has become a cult hero on the sites he once trawled with semi-anonymity. A post by John Earnest, a 20-year-old from San Diego accused of graffitiing a mosque with pro-Tarrant slogans, shows how the Grafton boy has already joined the ranks of right-wing terrorists Anders Breivik and Dylann Roof, two of Tarrant's heroes.
"For Brenton Tarrant –t/pol/'' Earnest wrote on the mosque's wall, referencing online forums known as /pol/ for "politically incorrect". Earnest would later be accused of attacking a synagogue, killing one. Like Tarrant he tried to live-stream the shooting but failed, thanks to a technical hitch. A post on 8chan left his mates in no doubt about where he had drawn his inspiration and what he hoped the effect of his own attack would be.
"Tarrant was a catalyst for me personally … I only wish to inspire others."
PART II: The fight against darkness